Richard F. Record, Jr. – Retired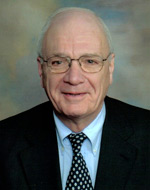 Contact Richard Record
Richard F. Record, Jr. was born in Mattoon on December 20, 1937. After attending parochial and public schools there, he received a B.S. degree from the School of Foreign Service at Georgetown University in Washington, DC. He received his legal degree in 1963 from George Washington Law School, also in Washington, DC. In the summer of 1963, he took the Bar exams for the District of Columbia and State of Illinois, passed both and was admitted to practice in the State of Illinois on October 1, 1963, at the age of 24. On the same date, he began work as an associate with Craig & Craig and was taken in as a partner January 1, 1966. He retired as an active partner June 30, 2008, and remains Of Counsel to the firm. Record's legal career has been almost entirely in the field of civil litigation in the federal and state courts of Illinois with particular emphasis on defense of doctors and other healthcare professionals (nurses, P.A.s, etc.).
Rich Record was inducted as a Fellow of the American College of Trial Lawyers in August, 1983. He served as the President of the Illinois Appellate Lawyers Association in 1979-80. He is the author of numerous articles on legal topics related to civil practice and law in Illinois. During 1989-95 he was Chancellor to the Bishop of the Episcopal Diocese of Springfield.
Rich Record was married April 2, 1961, in Washington, DC, to Jacqueline C. Record. They have two daughters, resident in Chicago and Flagstaff, Arizona, and two granddaughters.
Rich Record was recently appointed as a third Member of the City of Mattoon, Illinois Board of Fire & Police Commissioners. The Board oversees recruitment, promotion and disciplinary responsibilities respecting Mattoon's Fire and Police Departments.
Education
George Washington University, LL.B., 1963
Georgetown University, B.S., 1959
Admitted
1963, Illinois and District of Columbia
Memberships
Coles-Cumberland Bar Association (President, 1982-1983)
Appellate Lawyers Association (President, 1979-1980).
Biography
Author: "Medical Malpractice," Practicing Law Institute, 1972
"Introduction to Third Party Practice," Third Party Practice, Illinois Institute for Continuing Legal Education, Chapter 1, 1992
"Res Ipsa Loquitur," Representing Defendants in Medical Negligence Cases, Illinois Institute for Continuing Legal Education, Chapter 3, 1987.
Member, Illinois Supreme Court Committee on Rules of Evidence, 1975-1979.
Chancellor of Episcopal Diocese of Springfield, 1989-1995.
Fellow: American College of Trial Lawyers.

Born: Mattoon, Illinois, December 20, 1937